Air Charter – Lockheed L-100-30 (C-130) Hercules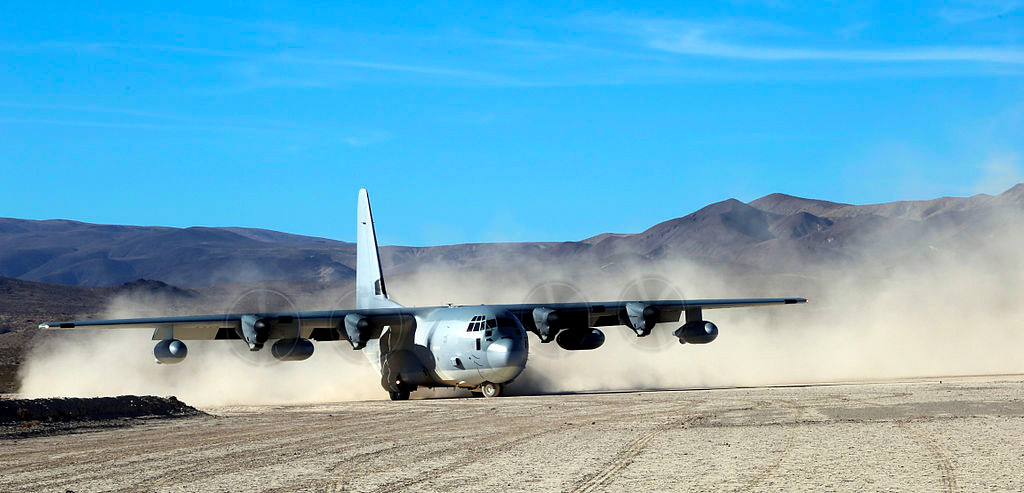 2x
Air Charter – Lockheed L-100-30 (C-130) Hercules
Service: Air Charter
Aircraft: Lockheed L-100-30 (C-130) Hercules
Aircraft Type: Cargo Freighter
Quantity: Two (2)
Available: Ongoing
Route: Worldwide (may require repositioning)
Specifications:
Best Use:
Although austere operations and moving oversized cargo are the aircraft's basic mission set, firefighting, airdrop delivery, humanitarian and disaster relief, search and rescue, mining and oilfield support and exploration, airspray and oil dispersion, medevac, and personnel transport are just some of the jobs this aircraft can do.
Features:
The unique capabilities of these Hercules cargo planes allow them to fly as low as 100 feet and land in remote areas without runways or roads. Their sophisticated avionics systems allow them to communicate and operate safely in the most challenging conditions with no power or infrastructure. These aircraft can support payloads up to 48,000 pounds of palletized or break-bulk freight, allowing for the transportation of connex boxes and drive-on, drive-off loading for vehicles, and equipment.
EPA-certified waste transporter, capable of carrying all types of hazardous loads including contaminated soils, fuel, oily waste, and other dangerous cargo to assist in many emergencies and natural disasters. They are the first and logical choice for disaster relief and emergency response.
48,000 pound payload with up to 6,057 cubic feet of cargo volume
Accommodates standard 88″ x 108″ pallets or containers, plus belly compartments and a ramp container; mixes of 10, 20, 30 and 40-foot long 8-foot x 8-foot cross-section intermodal containers up to 54 feet long
Oversized shipments up to 54 feet long, 10 feet wide and 9 feet high
Straight-in loading through rear cargo ramp door
Truck-bed height loading; ramp is adjustable to any position
Drive-on, drive-off loading for vehicles and heavy equipment (rolling stock)
Capable of transporting Connex boxes
Self-contained auxiliary power; minimum ground support required for aircraft systems, offloading, and onloading
Self-contained winch for loading/unloading cargo
Aircraft can back up under its own power
Short and unpaved runway takeoff and landing
Can operate on runways/taxiways as narrow as 75 feet
Aircraft maneuvering and overall size enables loading on limited ramp space such as "hot pads" for hazardous materials
General Information: The Lockheed L-100-30 Hercules is a medium haul cargo aircraft capable of transporting 21,000 kg. Cargo pallets require either a high-loader or forklift to access its main deck.

"The L-100 retains the same form and function of the original C-130 including its excellent handling capabilities and short-field hauling qualities." – Wikipedia
Aircraft Charter
Aircraft Charter is the simplest and most flexible option for moving passengers and freight. We provide a wide range of options for private, commercial and government clients from anywhere in the world to anywhere in the world, including, hostile, austere and challenging environments. Options for one-way, round-trip and space available charter flights. Empty legs and space available options are often the most cost-effective option for single or irregular shipments and travel.
Whether you require a cargo helicopter or cargo freighter, we'll work with you to find the best solution based on your specific needs. Whatever you need to move, we will deliver, worldwide, on time and on budget.
[email protected] for a quote.
Contact
https://procharter.com/wp-content/uploads/2023/02/C-130_141023-A-XB890-054-modified.jpg
493
1024
ProCharter
https://procharter.com/wp-content/uploads/2020/04/procharter-logo-golden.png
ProCharter
2023-02-07 09:43:10
2023-02-15 08:29:44
Air Charter – Lockheed L-100-30 (C-130) Hercules